May 30, 2023

Futura Technology Group

0
Cloud computing is a game-changing innovation in today's hyper-connected world, providing businesses with unprecedented chances to modernise their IT systems and fuel their expansion. Australian organisations are expected to spend A$19.9 billion on public cloud services in 2023, up 19.3% from 2022*.
Although moving to the cloud may seem like a huge step for small and medium businesses (SMBs), the benefits in terms of scalability, cost-effectiveness, and operational agility are substantial. In this piece, we'll explain what cloud computing is and why it's especially important for medium-sized businesses to use it.
Drivers for moving to cloud services:
Improving customer service (38%)
Keeping up with competitors (38%)
Seeking to adopt innovative technology (34%)
*Source: Deloitte Access Economics Study – The Economic Value of Cloud Services in Australia – 2019
Cloud Computing: What Is It?
The term "cloud computing" refers to the trend away from relying on on-premise servers and desktop PCs in favour of remote servers and applications. Using Infrastructure as a Service (IaaS), Platform as a Service (PaaS), and Software as a Service (SaaS) solutions from cloud providers, businesses can instantly access a wide variety of scalable and adaptable computing resources. Gartner# predicts that by 2026, 75% of organisations will adopt a digital transformation model predicated on cloud as the fundamental underlying platform.
"75% of organisations will adopt a digital transformation model predicated on cloud as the fundamental underlying platform"


Source: Gartner April 2023
Cloud Computing Enhances Agility and Scalability
Cloud computing's inherent scalability is one of its primary benefits. To accommodate expansion, businesses using traditional, on-premises infrastructure typically must pay for costly hardware installation, maintenance and upgrades. 
However, the cloud's inherent scalability makes it possible for even medium-sized businesses to quickly increase or decrease their resource allocation in response to fluctuations in demand without incurring significant additional IT expenditure. This enables organisations to quickly adjust to the dynamics of the market and the needs of their customers.
Cloud computing offers a low-cost replacement for conventional data centre setups. By moving to the cloud, mid-sized businesses can avoid spending a fortune on servers, software, upgrades, upkeep, electricity, and personnel. They can switch to a pay-as-you-go system instead, in which they are billed only for the actual amount of resources they consume. Recent studies have shown that businesses that move their operations to the cloud save between 15 and 30 percent on operating expenses while also enhancing efficiency.
"Businesses that move their operations to the cloud save between 15 and 30 percent on operating expenses while also enhancing efficiency"
Improved Data Safety and Reliability with Cloud Computing
Cloud adoption has been slowed by fears over the safety of user data. In a 2019 survey conducted by Vanson Bourne for Barracuda, the greatest threats to respondents' public cloud infrastructure included open vulnerabilities in cloud applications (44%), sophisticated hackers (38%), ransomware (38%) and corporate network exposure to intrusions/attacks (38%). 
This means that one of  the primary responsibilities  of trustworthy cloud service providers is security. To protect information from danger, they use advanced security measures including encryption, access controls, and routine backups. In addition to this, cloud providers also run numerous data centres in different parts of the world. These precautions, which offer higher reliability and business continuity, are beyond the capacity of most small or even mid-sized organisations' internal IT staff.
Better Collaboration and Productivity
78% of users have reported improvements in productivity since using cloud services according to a study conducted by Deloitte in 2019. 
Organisational collaboration and output both benefit from the implementation of cloud-based technologies. With cloud computing, employees can use any connected device to gain access to their work files, programmes, and information. The ability to work from anywhere at any time encourages collaboration and boosts output. In addition, cloud-based collaboration technologies simplify communication and file sharing, leading to increased efficiency in teamwork and cooperation across organisational boundaries.
Cloud computing Enables Innovation
Cloud computing enables innovation by giving even growing businesses access to state-of-the-art resources like artificial intelligence (AI), machine learning (ML), and big data analytics, all of which may be used to gain a competitive edge. Until recently, only major corporations could afford the necessary infrastructure to take advantage of these innovations. Small and medium-sized businesses can leverage these technologies in the cloud to gather insights, enhance decision-making, and boost their competitive advantage.
Most of the current use cases in Australia are around adopting "in-cloud" services like software applications, such as for customer relationship management, invoicing, or marketing. The pandemic accelerated implementation of cloud services and solutions with businesses shifting to cloud-based apps and platforms for things like video and web conferencing. There is still a huge headroom to digitally transform organisations by realising the true potential of innovation with cloud computing in many other areas.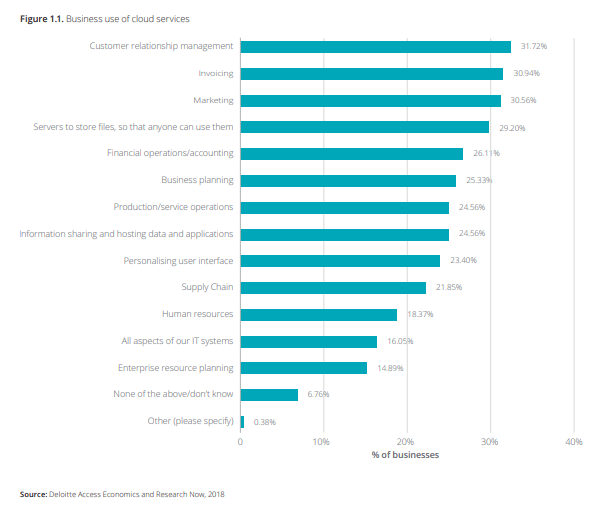 For small and medium sized businesses that want to make the most of their IT resources and achieve a competitive edge, the cloud has become an essential tool. Research and market trends show that migrating to the cloud has a number of advantages for business operations and growth. It may improve their scalability, efficiency, cost-effectiveness, security, collaboration, innovation, and more, so long as challenges like security are adequately addressed. 
Now is the time to make the switch, especially as businesses around Australia and beyond grapple with remote and hybrid workforce realities. 
Organisations may avoid any hiccups in the transition and take full advantage of cloud computing by teaming up with a reliable managed IT services provider. Don't get left behind; start leveraging the cloud's benefits right away.
Talk to us now to get a free assessment of your cloud computing and managed IT services requirements.